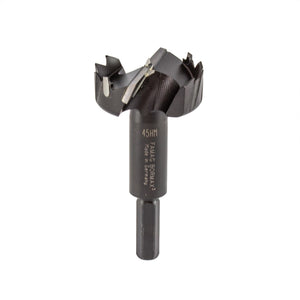 Dimar Bormax³ Carbide Tipped Forstner Bit 45mm (Bit 1 of 4 Carbide Tipped)
Regular price $91.00 $68.00 Sale
This Carbide Tipped bit never needs sharpening! I highly recommend this for the 45 mm bit used for the first hole in the base of the body for the standard CrushGrind® mechanism.
Made in Germany, the Dimar Bormax³ Carbide Tipped Forstner Bit is by far, the sharpest and most efficient Forstner bit we've used, and is designed to last in a high production shop.
The 45mm diameter is the right size to drill the first hole in the base of the body of a mill that will have a regular size CrushGrind® mechanism installed.
A true carbide tipped Forstner bit
Carbide centering point
High cutting quality
Carbide main cutting edge and carbide teeth
Less friction, no overheating
Less power needed
For use with hand drill & drill press machines
Application: Drilling tear-free and accurate holes in all types of wood: solid wood, soft wood, hard wood, exotic hard wood.