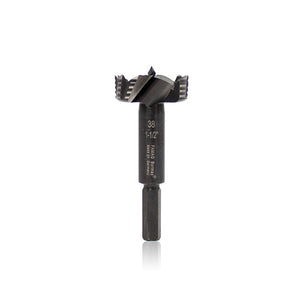 Dimar Bormax 38 mm (1-1/2-in) Forstner Bit (1 of 4 for the CrushGrind® Mini Mechanism)
Regular price $34.00 Sale
Perfect for the 1st hole in the base of the pepper mill body where the body of the mechanism is inserted. Used with the CrushGrind® Mini style of mechanism (not the Standard version).
DESCRIPTION
Dimar's Bormax Forstner Bits are ideal for producing flat bottom holes on an irregular surface, Ornamental Edging, Mortising, Counterbore Holes, and Pocket holes. 
The bit incorporates a sawtooth style and wave-form side clearance for tear-free accurate holes. 
The modified head of the bit reduces friction resulting in cooler boring and longer tool life. 
Use on CNC Boring machines, Hinge Boring Machines, and Special Boring machines.
Cuts most Softwood, Hardwood.